CPaCE News
Insightful Team of MSIS Students Earn First Place at Dynamic Data Hackathon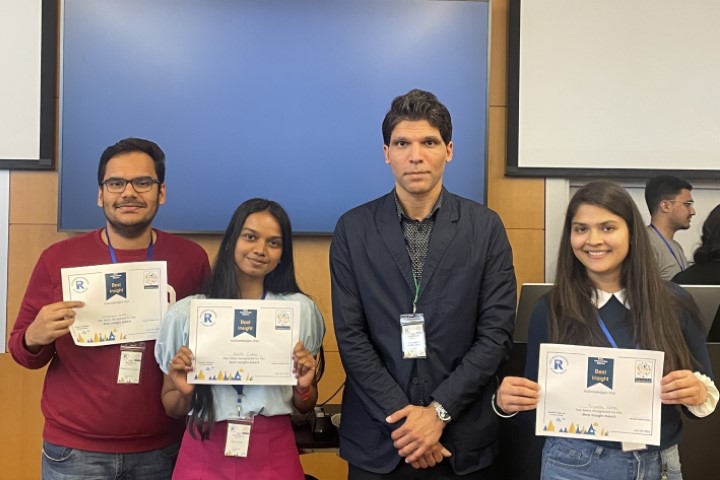 PHOTO (L-R): MSIS students Chakrapani Suresh and Ruchi Issac, MSIS program director Mohamed Abdelhamid, and student Priyanka Katre with their awards at the 2023 Data Hackathon.
Shortly before graduating from the intensive Master of Science in Information Systems (MSIS) program at California State University, Long Beach (CSULB), three students drew upon their recently acquired technology and business skills to achieve success at one of the area's most respected meetings for those working in their field.
MSIS students Priyanka Katre, Ruchi Isaac, and Chakrapani Suresh—all of whom just completed the program in Spring 2023—formed a team for the annual Data Hackathon, where they won both the 1st place prize and the coveted Best Insights Award. The two-day event, organized by the Southern California R Users Group and the Merage Analytics Club, was held on April 22-23 at the University of California, Irvine's Paul Merage School of Business. Participants were invited to use teamwork to study a set of raw data and transform it into a final "product" or useful insight.
"The pressure, the last-minute technical errors, and still managing to complete everything on time—I wouldn't have wanted it any other way," said Priyanka, whose team worked with a set of data from the mobile app Yelp. "We wanted it to be as simple and effective as it could be. I feel we had great competition from other teams, but somehow, we managed to stand up against all of them!"
Priyanka, Ruchi, and Chakrapani were joined by two UCI students on a five-person team that tackled the challenge of producing a valuable analysis of the Yelp data. Since the restaurant industry had the greatest number of entries in their set, that became the starting point for the team to filter through the data and produce as many different visualizations of it as they could. Soon they realized that one idea connected all the data sets: some customer ratings on Yelp had anomalies or biased reviews that were contrary to the popular consensus. This unique line of thinking set the team apart from all their competitors and led to their award-winning presentation at the event.
"The hackathon was such a lovely opportunity to test out our level of skill," said Ruchi, who praised her MSIS professors for patiently helping her attain skills in machine learning and database management. "That's what makes this program so special, because I get to watch industry professionals deliver their ideas and interact with them."
By the time they attended the Data Hackathon, the MSIS students had already become well-trained on industry-standard tools including Tableau, Python, and Oracle as well as important concepts such as statistics, business analytics, and cybersecurity. In their final semesters, they also dove into state-of-the-art Deep Learning and Machine Learning models, which are developing rapidly through applications like ChatGPT.
"The most appealing thing about the program is how modern it is, covering the most in-demand and innovative technologies," Chakrapani said, adding that evening classes, affordable tuition, and the Southern California location were what drew him to the MSIS program in the first place. "What AI is doing to every industry today is nothing short of a revolution. As a data analyst, it excites me for the challenges and opportunities that are waiting."
"I was also able to learn about entrepreneurial thinking and working with a team for enterprise designing thanks to the IBM Certifications that were a part of our curriculum," said Ruchi. "I believe being up to date on all the changes brought about by AI is a key to success in a tech person's professional life." 
In addition to a comprehensive understanding of the latest technologies, these classmates gained valuable business acumen through networking opportunities, real-world case studies, industry panel meet-ups, and the mentorship of their professors.

"Thanks to the MSIS program, I have become well-equipped with the proper knowledge to navigate the industry," said Ruchi. "The concepts taught in the courses of this program were absolutely refined and I use them to this day to work on projects of mine."
"Now I am confident I can make that pitch to recruiters and fit in when I start working in corporate environments," Chakrapani added.

"I learned about how the systems in an organization actually work and how each of them plays an important role in the smooth functioning of a company," said Priyanka, who worked at an IT firm before enrolling in the MSIS program and now assists with data visualizations for the Director of Architecture at CSU's Office of the Chancellor. "Be it the design aspect of it or the storage of data, everything has a crucial part to play."
"When I decided to pursue my master's degree, I knew I wanted to work in the data domain, and this program is helping me with that," she added. "I can say confidently that I am a grown person now in terms of knowledge, skill sets, and personality."
Click here to learn more about CSULB's Master of Science in Information Systems program.
More Alumni Profiles
More Student Profiles