CPaCE News
CSULB Alum Gets Career Boost Through Information Systems and Artificial Intelligence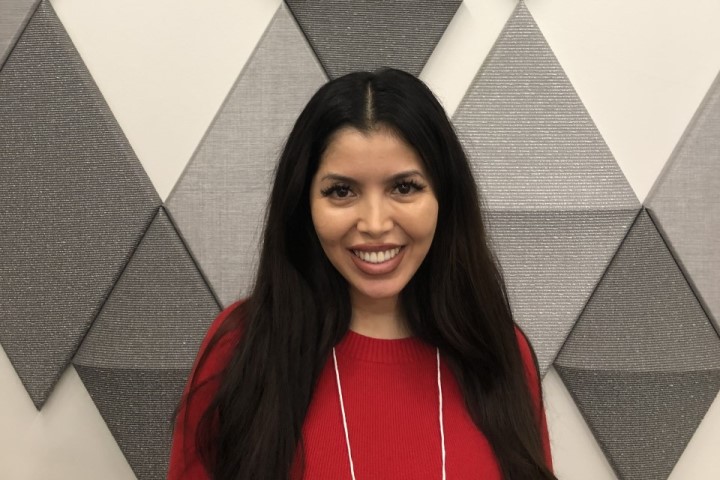 "I graduated in May 2022 and it's been just a lot of positive career changes," said Stephanie Wells, who earned her bachelor's degree at CSULB before enrolling in the university's Master of Science in Information Systems (MSIS) program. "Every time I hit a new milestone at CSULB, it's just amazing how you can see the dates align with my job changes."
Transferring from San Diego City College in 2016, Stephanie's undergraduate studies in Business Management Information Systems prepared her to enter the workforce as an Integration Engineer with companies including MeridianLink in Costa Mesa, CA. However, she wanted to gain a deeper sense of computer programming languages, so MSIS classes were ideal for gaining hands-on instruction in Python and JavaScript, along with a strong focus on entrepreneurship.
"I felt like the classes were going to give me the learning that I needed to continue to advance my career," she said, "and then also the skills to perhaps create my own business in the tech space."
For Stephanie, the choice to enroll at CSULB was easy. There were multiple points that made it the ideal place for her educational path, specific career goals, and personal preferences.
"I chose Cal State Long Beach because of the diversity," she explained. "I noticed that just by being on campus, interviewing students, and speaking to any professor that would talk to me. I also felt that the courses were relevant to the things that I wanted to do, and I loved the affordability because I funded my education on my own. When it came time to look for a graduate program, I looked here first because I felt like it was home."
When she began the MSIS program in Spring 2020, the Covid-19 pandemic was just beginning to disrupt life around the globe; but Stephanie's positive outlook helped her navigate the challenges of balancing school, work, and health.
"It was a time where everybody was really scared and uncertain," she said, "so going back to school was my way of coping with all of that. People were losing their jobs, businesses were closing, but one thing that has always been a guiding light in my life is education."
Hunkering down with a focused mindset, Stephanie especially enjoyed the MSIS course in business development, which gave her a renewed sense of confidence.
"It really exposed me to all of the things that are involved in running a business," she said. "The professor was really encouraging, and it's those conversations and that support you get from someone who you admire—that really sticks with you."
Another highlight was Stephanie's teamwork with fellow MSIS students at the SoCalRUG Data Science Hackathon in April 2022 at UC Irvine. Stephanie and her classmates demonstrated their newly gained knowledge of how to turn raw data into visualizations with interesting insights.
"We weren't sure how we would measure up to other people participating, but we ended up winning the Best Presentation award!" Stephanie exclaimed. "It was so rewarding to get closer to my colleagues that are now friends, learn about how I perform under pressure, and what you're capable of when you're on a team."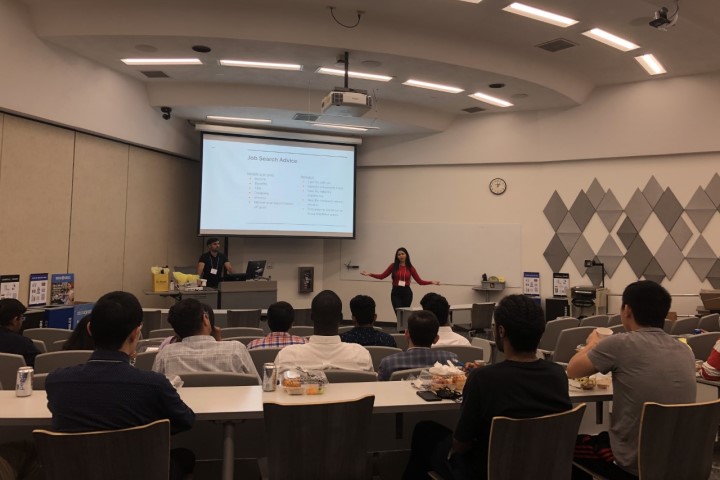 CSULB graduate Stephanie Wells speaking to the Fall 2022 MSIS cohort
The technical skills taught in the MSIS program soon became helpful when Stephanie found a new job as Customer Success Engineer at Aisera, a company that specializes in providing clients with artificial intelligence (AI) solutions that improve their business operations. She had no problem with the new job requirements: using the same programming languages that she learned in her MSIS classes.
"Even when I was interviewing, they were asking me if I had experience in that," she said. "I told them, 'Here's what I did. Here are the classes I took.' And they loved that."
In her role at Aisera, Stephanie is the main point of contact for customers to engage with the company's AI services. This includes gathering data on how to improve processes, and then creating customized solutions in the form of automated workflows.
"I get paid to talk to people and help them make their businesses better," she said, explaining that while some people feel apprehensive about AI, she's confident that it simply helps to automate otherwise tedious tasks.
"The reason that I decided to change jobs was because I was really interested in getting into this AI industry space, and I was curious to see how it actually works on the back end," she said. "Now that I've had some time working there, I can say that it's extremely powerful in just helping humans. It gets rid of the manual work, makes our jobs easier, and allows us to focus on more fulfilling work.
Having quickly and repeatedly found success throughout her journey, Stephanie recently returned to campus to share a few life lessons with the incoming cohort of Fall 2022 MSIS students. Her expert job search advice encouraged those in attendance to identify their goals, research the specific skills and experience needed, and promote themselves. Her parting words were a shout-out to CSULB:
"The best mentors, the best memories, and the best relationships!" she exclaimed. "The whole six years that I've been here has been very transformative in terms of education and career. A lot of fast growth—it's been a very exciting time!"
Learn more about the MSIS program at CSULB.
More Alumni Profiles
More Student Profiles