CPaCE News
Story of Women in Aviation Told in New PBS Documentary Produced at CSULB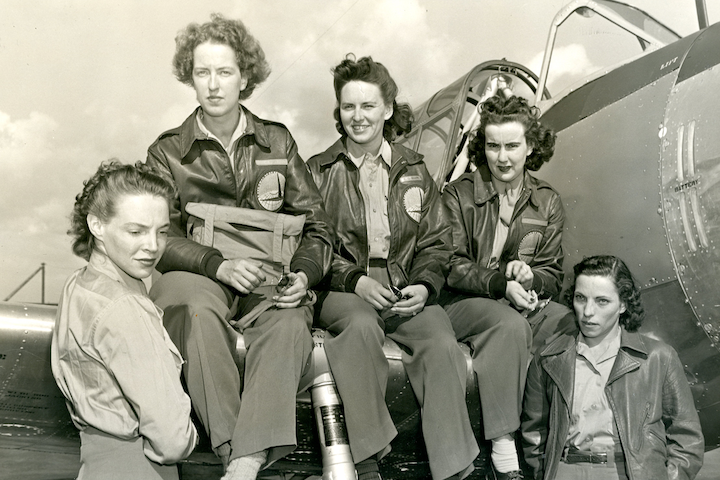 Photo above: The first five pilots of the Women's Auxiliary Ferrying Squadron at Long Beach Army Air Base, 1943
Hearts Above Clouds is a newly produced documentary that covers the past 100 years of women involved in aviation, with a special focus on Long Beach. Already nominated for a Los Angeles Area Emmy Award in the category of Culture and History, the one-hour film was produced by CSULB's Advanced Media Production (AMP) and features in-depth personal portraits of successful women pilots from 1920 to the present day. Following its premiere earlier this month, Hearts Above Clouds will be broadcast on PBS stations across the country this summer, beginning with KLCS in Los Angeles (May 31 at 9:00 p.m.) and KVCR Inland Empire (June 26 at 9:30 p.m.).
The documentary chronicles courageous and pioneering women aviators who broke barriers, set records, participated in the military during wars, and navigated solo trips around the world in small aircraft adventures. Long Beach itself appears as the main backdrop and launching pad for many of these heroines—from the much-celebrated Amelia Earhart to many lesser-known but equally fascinating female fliers. A significant part of the film covers the activities of the Women's Auxiliary Ferrying Squadron (WAFS) stationed in Long Beach during World War II.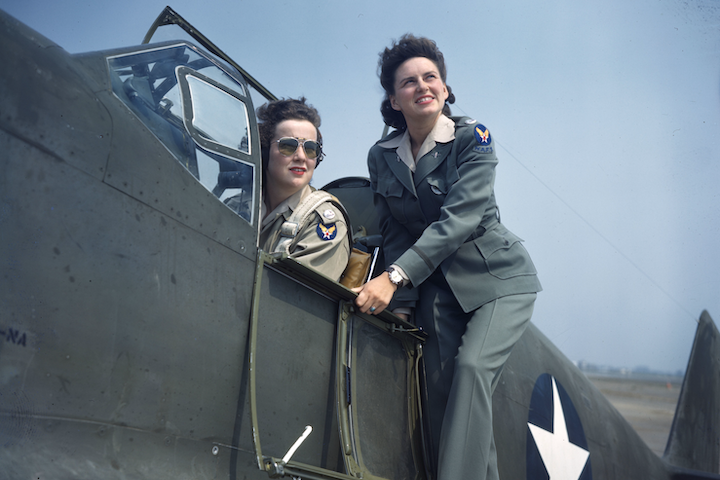 Photo: WAFS pilots Barbara Erickson (left) and Evelyn Sharp (right) at Long Beach Army Air Base
"There is no doubt Long Beach was one of the key cities in early aviation development," said Hearts Above Clouds writer and producer Dave Kelly, who is also the Director of AMP at CSULB. "The significance of Long Beach aviation continued beyond the war and included trailblazing women at every phase along the way. In fact, there was a brief time when women aviators were more famous than the men and received more attention in the media."
"I think the appeal of this film comes from the in-depth personal stories," Kelly continued. "Viewers get to experience the aspirations, the trials, and the triumphs of highly-skilled, strong, and determined women."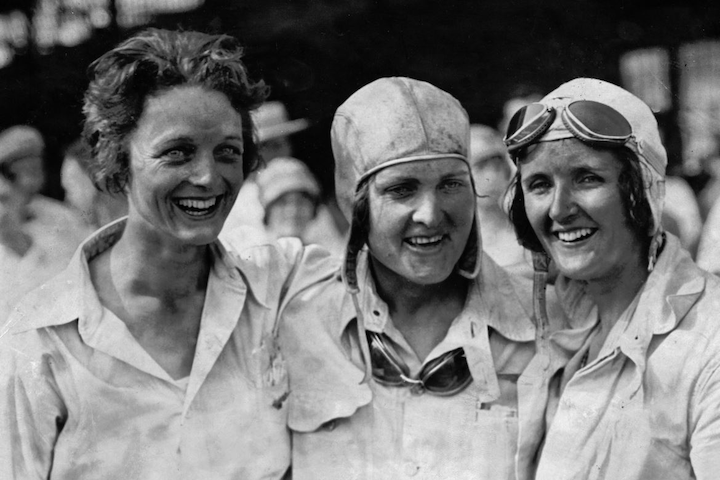 Photo (L-R): 1929 National Women's Air Derby winners Louise Thaden and Gladys O'Donnell with fellow competitor Ruth Nichols
Funded by a grant from the Long Beach Navy Memorial Heritage Association, Hearts Above Clouds was completed in December 2021 and is now available to all PBS affiliates nationwide for local broadcasting opportunities. For local viewers in Southern California, PBS Station KLCS appears on the Spectrum cable dial at channel 25 and on Frontier FiOS at channel 15. Direct TV and Dish TV viewers can find KLCS on channel 58. KVCR is on Spectrum channel 12 and Frontier FiOS channel 24. For both Direct TV and Dish TV, KVCR is located on channel 24.
Click here to learn more about CSULB's Advanced Media Production or contact Dave.Kelly@csulb.edu.
More College Updates
More Community Outreach
More Staff Profiles