CPaCE News
Essential Worker Becomes Student of the Year in Global Logistics Program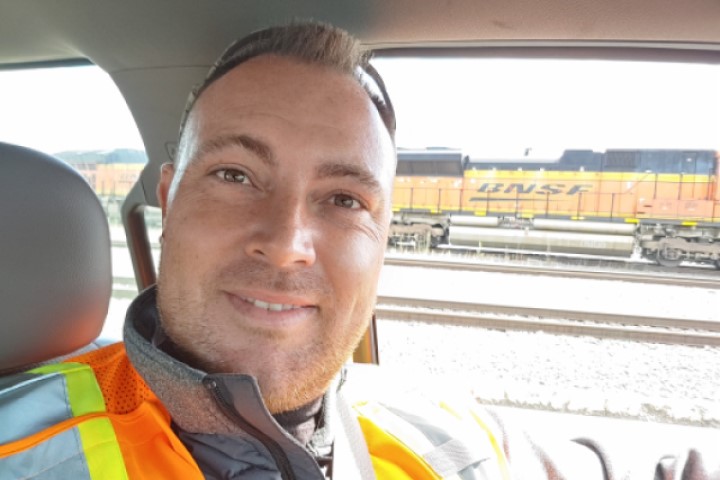 Calvin Bragg had experienced many ups and downs in the rail and trucking industry, and was looking for a broader perspective of the global supply chain, including the many challenges of transporting goods around the world. A perfect opportunity arose when his employer introduced him to CSULB's Global Logistics Professional (GLP) program. Calvin's boss at U.S. Multimodal Group, which provides intermodal logistics and transportation services, had completed the GLP program a couple years earlier and suggested that he too should take advantage of the course.
"When [my director] offered to sponsor the program, I couldn't say no," Calvin remembers. "I was so excited, I literally signed up for the class that same day! I was grateful for the opportunity to go back to school, earn a professional designation, and show my company that I could commit to this program."
With a combination of online classes on weekday evenings and in-person meetings on every other Saturday morning from January through July 2022, it fit right in to Calvin's work schedule as well as his home life as a single father raising two kids.
"The GLP program was such a blessing for me," said Calvin. "I had to leave college back in 2008 due to the recession, and consequently the company I was working for then foreclosed. I really regret not completing my degree at that time. I found that going back to school was like trying to hit the gym after a long time away from it—it took me a little time to warm up, but I soon started seeing the benefits in my personal life."
As a Regional Director of Safety and Compliance for U.S. Multimodal Group, Calvin was designated an "essential worker" during the Covid-19 pandemic, so he continued balancing GLP classes with his work alongside truck drivers, longshoreman, and rail workers within the Ports of Long Beach, Los Angeles, and Oakland. His typical daily duties include assisting carrier companies with regulatory compliance and reporting, checking on local operations for any incidents or problems, and preparing site-specific safety action plans.
"A great part of my duties involves auditing safety-sensitive tasks," Calvin explained. "I look for best practices and interview the individuals performing them. I provide coaching points and offer assistance developing employee work behaviors."
"Having taken this program, I've better positioned myself to understand how the market works and how to react in times of uncertainty," Calvin said. "In my current position, this benefits me so much that I'm able to offer my team insight and direction on when to ship products, where to store them, and the best modes of transportation for the task at hand."
After demonstrating through hard work that he had fully mastered these concepts, Calvin earned the Student of the Year award from METRANS, a consortium including CSULB and the University of Southern California that is committed to addressing transportation challenges through interdisciplinary research, education, and outreach.
"I'm completely humbled and grateful for this achievement," Calvin said. "I believe the greatest honor is going back to my company and showing them what I was able to accomplish with the opportunity they provided me. It comes with a lot of pride, and I'll carry that with me forever."
"I don't know of any other program where a student can sit with industry leaders and pose questions, inquire as to how they achieved their success, and learn just how they did it," Calvin continued. "I've suggested the GLP program to friends that aren't even in the industry. This program introduced me to so many new ideas, and has changed the way I think about global logistics."
Click here to learn more about the Global Logistics Professional (GLP) program.
More Alumni Profiles
More Student Profiles
More Trade & Transportation