CPaCE News
BALA Grad Responds to Turbulent Times and Gets Psyched for the Future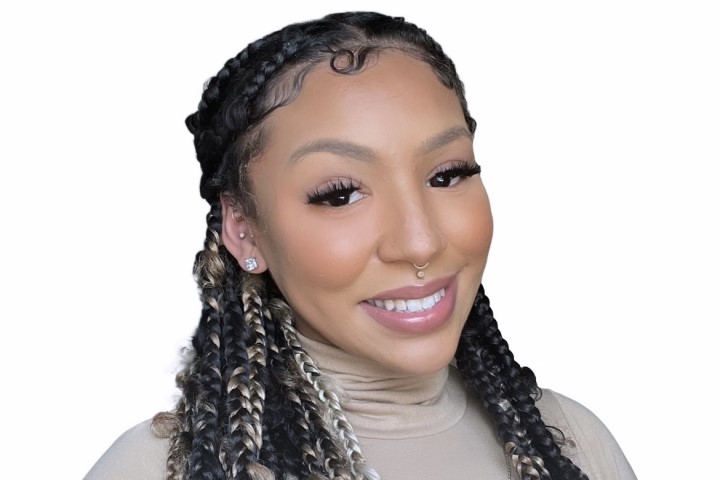 "CSULB had always been my dream school!" exclaimed Melanie Fuller, a recent graduate of the Bachelor of Arts in Liberal Arts (BALA) degree completion program. "I chose BALA because I wanted to receive an education that focused on making me a more well-rounded person and aligned with my career goals."
Initially a Communications major with an emphasis in Sports Broadcasting, Melanie shifted to the BALA program because she was seeking a more comprehensive and globally-informed education. Melanie attended the program from 2019 to 2021, which meant that the COVID-19 pandemic had a significant impact and led to a full year of virtual learning. However, Melanie said that although she missed the in-person learning experience, she gained an even greater appreciation for lessons she couldn't have learned otherwise.
"I think that being able to adapt to the pandemic and talk about the current events happening during that time period made my education so much more special," she said. "COVID is going to be a big part of our history—for civil rights, technology, mental health, the workplace— it really brought to light so many aspects that were once an afterthought."
Melanie credits the success of her education to the BALA program's small cohort and flexible schedule, as well as dedicated instructors who created an engaging online classroom environment. With mostly asynchronous classes held every other Wednesday and Saturday, the BALA program allowed Melanie to balance being a student and full-time professional while maintaining an active personal life.
"This was the most accommodating school schedule that I've ever had, and it worked out very well with the position I held at work," said Melanie, who interviews police and fire department candidates for the City of Los Angeles. "I think BALA prepared me for this job because I acquired the skills that employers are looking for, like communication, critical thinking, and cultural competency."
Among the diverse array of subjects that Melanie studied in the BALA program—including courses in healthcare, anthropology, and global news media—it was Melanie's class on Industrial-Organizational (I-O) Psychology with Dr. Amy Wax that helped her figure out her ultimate career path.
"I took that class during Summer Session in 2020," Melanie explained, "so the pandemic hit and the civil rights movement with Black Lives Matter and the death of George Floyd had been happening all around the states. As a biracial Black woman, I have experienced discrimination and racism in so many areas of my life. I feel like society at the time and Dr. Wax's class helped me navigate what I was dealing with."
The development of Melanie's critical thinking skills in these areas led to her recent decision to enroll in the graduate program in I-O Psychology at California Baptist University (CBU). As a first-generation college student, Melanie appreciated the help she received from the BALA program instructors as well as the admission counselor at CBU, which ensured a smooth transition between schools.
In the meantime, Melanie is applying all that she has learned in the BALA program to her job with the City of LA, where she chairs an interview board that reviews data to determine criteria and evaluate the best candidates to be hired in the LAPD and LAFD.
"I get to apply basic personnel psychology principles such as selection and evaluation to the interview process by allowing candidates to present their qualifications," she explained. "I then evaluate…and share the information I obtain."
This essential information is being affected by a whole new frontier in the workplace, which Melanie will begin to examine as part of her upcoming graduate course on Artificial Intelligence (AI) in I-O Psychology. This growing topic was introduced to Melanie in one of her favorite BALA courses, History of Western Scientific Thought with Dr. Andrew Jenks.
"AI is one of the biggest topics in I-O right now," said Melanie. "One of Dr. Jenks' first class discussions posed the question, 'What are the unintended consequences of scientific advancement?' I repeat this question to myself constantly in regards to how automation impacts the workforce. His course actually made me challenge the way I think and changed the way that I see the world."
After earning her master's degree, Melanie plans to pursue a career in personnel selection for a media company, drawing upon her strong sense of justice while building on the skills she gained at CSULB to help support ethical journalists.
"I learned so much about what it means to be human on a global, philosophical, and analytical level," she said, "and probably so many other levels!"
Click here to learn more about the Bachelor of Arts in Liberal Arts (BALA) degree completion program at CSULB.
More Alumni Profiles
More Student Profiles