CPaCE News
Grammy-Winning Hitmakers Share Music Business Secrets at CSULB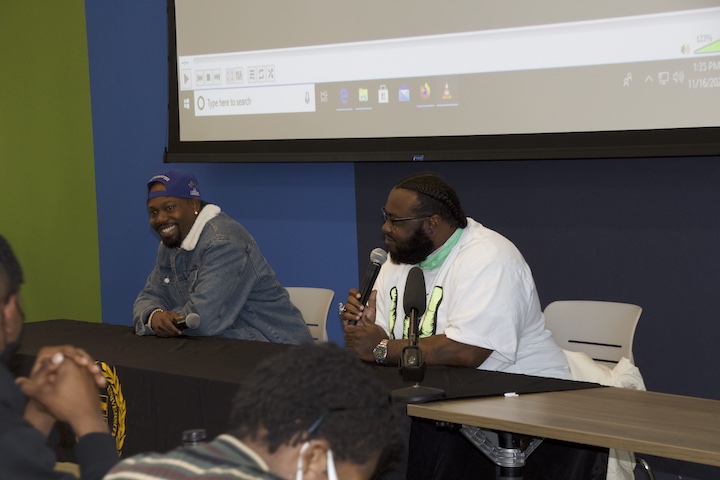 It's not every day that Grammy-winning musicians visit CSULB, but that's exactly what happened on November 16, when James Fauntleroy and Larrance Dopson arrived on campus to discuss their brand new Music and Industry Fundamentals program. Offered in partnership between CSULB and 1500 Sound Academy, the program was created by Fauntleroy and Dopson with years of expertise as behind-the-scenes hitmakers for the biggest names in music—from Rihanna and Justin Timberlake to Jay-Z and Kendrick Lamar.
About 30 curious students and faculty members showed up for an intimate Q&A session to learn more about the six-month program, while also getting a rare opportunity to pick the brains of the two music masterminds. Among the closely-listening attendees were CPIE Dean Jeet Joshee, College of the Arts Dean Dr. Robin Bargar, and 1500 Sound Academy entrepreneur/investor Twila True, the CEO of True Family Enterprises. The conversation ranged across a wide range of inside information that has helped Fauntlroy and Dopson stay in-demand in the industry, from constant changes in technology to the crucial element of human behavior.
"We make hits off of our emotions—what makes people move and why," said Dopson, stressing the necessity of having soft skills in emotional intelligence along with hard skills in branding, marketing, and publishing.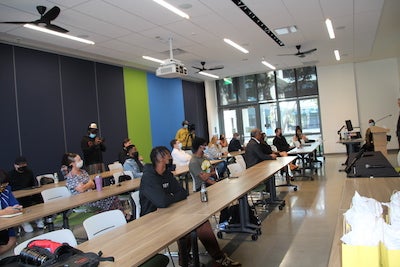 Each month-long course within the new educational program covers a different skill set, including songwriting, engineering, production, and other essentials. Students can choose between two formats: online in a virtual classroom streamed in real-time; or in-person and on-campus at the 1500 Sound Academy Studio in Inglewood, CA.
"A big part of the program, just like going to school here at CSULB, is you're meeting other people with the same goal," said Fauntleroy. "So that translates into studio sessions, jobs, and going on tours."
"We're there all the time," added Dopson while describing the state-of-the-art academy studios, where students can access every kind of instrument as well as other tools for making music in every genre.
The audience was treated to a video showing construction that is already underway to further expand the 1500 studio facilities, which will provide even more opportunities to their growing network of students, artists, and educational partners. Recent visitors have included a who's-who of music greats: Snoop Dogg, George Clinton, Timbaland, and the list goes on. Seeing such an impressive roll-call of collaborators, one attendee asked Dopson and Fauntleroy if they could break down their top three most important tips on how to be successful in the music industry.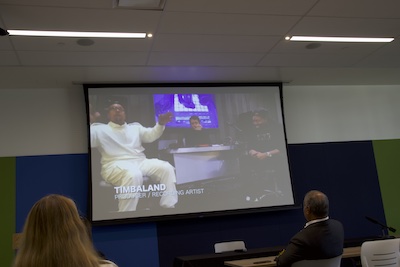 "Number one: genuine confidence, because we see a lot of artificial confidence in the music business," said Fauntleroy. "And the way you build genuine confidence is practice. Two: understanding the value of learning. People with longevity in the business, like Dr. Dre or Babyface, they never stop learning new things. Three: realizing that this is a service business. The further you go along that path, the further you'll go in the business."
"Being a people person," echoed Dopson. "It's a personality who you really want to work with. Being of service—that's the secret, just helping people. Believe in yourself. I feel like our academy is the place where, if you're crazy enough to believe in yourself, you can really make it; and we can give you those tools to get you there."
These weren't the only bits of wisdom dispensed by the two artist-educators, who also spoke about everything from maintaining mental health to the future of music.
"We're selling an intangible product in an entertainment business which is famously bad as far as how they treat people," explained Fauntleroy. "So therapy, research, philosophy—whatever you need to find your center is really important. Because when you get into something so competitive and predatory, you have to do everything within your power to stabilize your mental health and be comfortable so you can be creative; and all those things lead to money, which is the goal at the end of the day."
"The distribution of music will change, the tools will change," he continued, commenting on the rise of non-fungible tokens (NFTs) and other new advances in technology. "But the thing that'll never change is how human beings respond to different frequencies. It's important to learn that, and then just stay current."
Click here to learn more about CSULB's 1500 Music Academy's Music and Industry Fundamentals program.
More College Updates
More Community Outreach